Create a Block Buddy
Pro Account Today!
An incredible resource in your pocket – Block Buddy Pro is an anesthesia provider's new best friend.
Watch videos or view images of ultrasound-guided nerve blocks
Read detailed descriptions of more than 33 different blocks
Add personalized notes to important lessons
Explore comprehensive illustrations and diagrams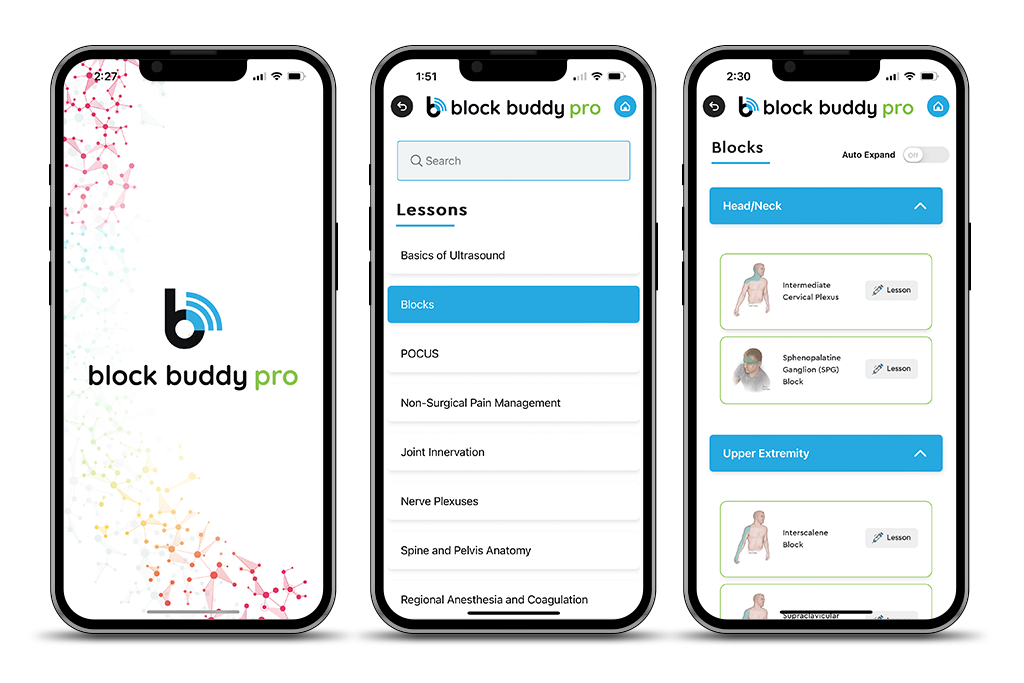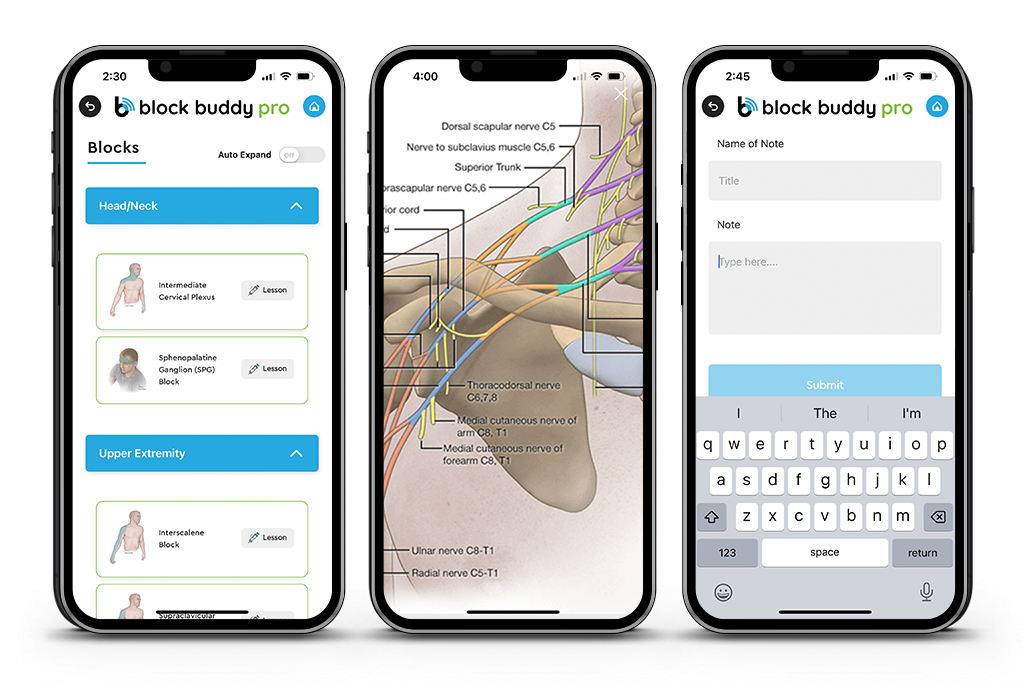 We specialize in and are focused on providing continuing education for ultrasound-guided peripheral nerve blocks and Point-of-Care Ultrasound (POCUS) – saving patients unnecessary pain and saving you time and worry.
Read step by step instructions
View medical illustrations and sonograms
Access lessons in offline mode
Our video library is stocked with demonstrations of more than 31 different blocks.
Direct access to videos within lessons
Watch ultrasound-guided nerve block demonstrations
Listen to lessons narrated for you while on-the-go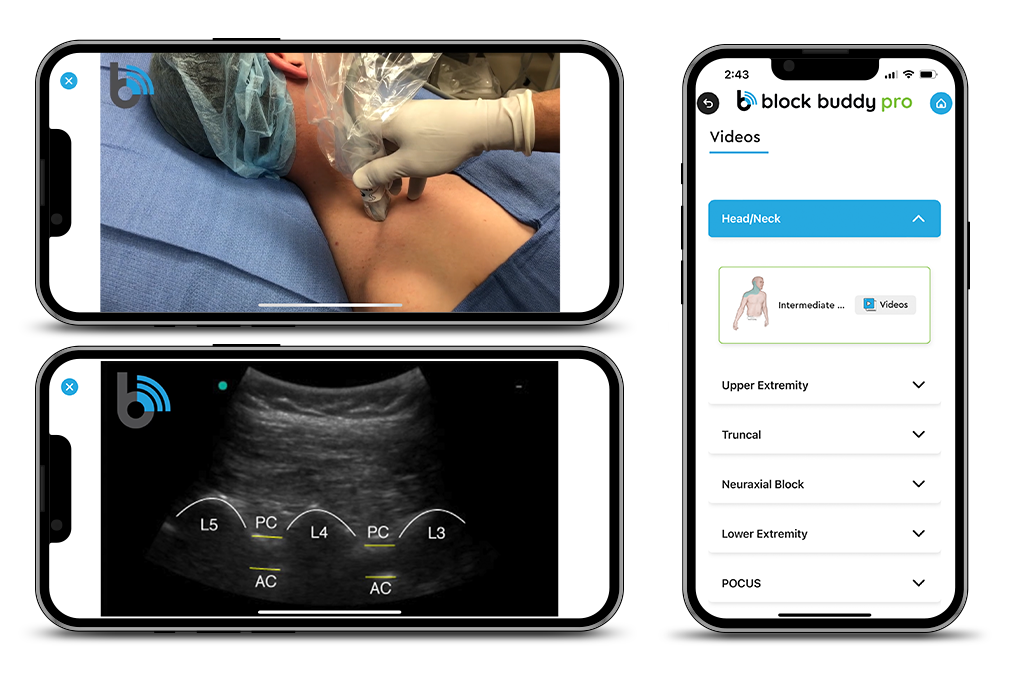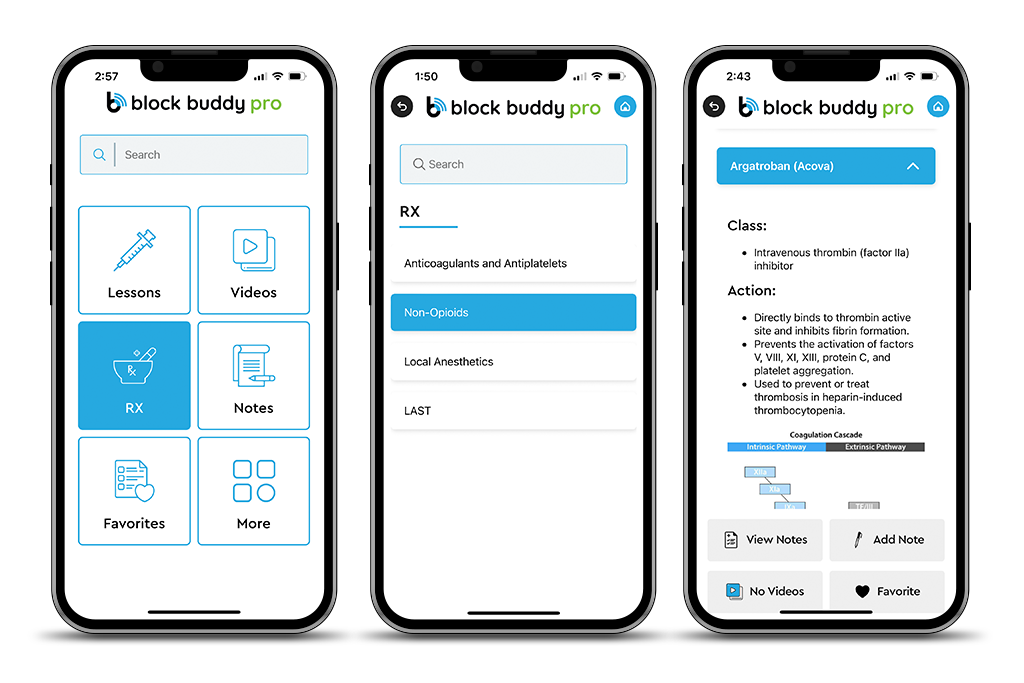 The Block Buddy Pro Rx Guide is a comprehensive tool you can use to easily search for the most effective drug for your patient.
Choose the right drug for your patient
Compare drugs using the comprehensive list in the app
Minimize patient pain and post-op time

Stay Sharp
Block Buddy Pro can help you to brush up on old skills, so you're always prepared to walk into the operating room.

Unlimited Answers
Our instructors are available to you when you have questions or need advice. It's almost like having access to the answer key!

Access Anywhere
Wherever you are, Block Buddy Pro will be there too. You can even download content from the app directly to your phone for offline use.

Touch of a Button
No more flipping through chapters and scanning pages to find the information you need – just search for it in the app with the touch of a button.

Peace of Mind
Use the app to show a nervous patient exactly what you will be doing in their procedure, creating peace of mind for both of you.

Stay Informed
Block Buddy is here to update you with new information on blocks or improved techniques, so you're always in the know.